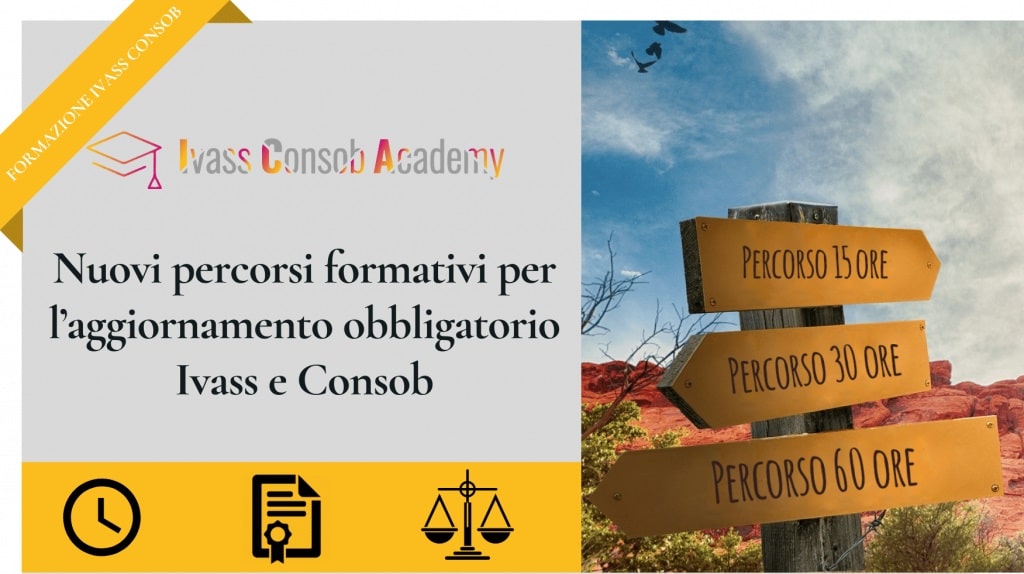 Ivass Consob Academy, the project born from the partnership of the E-Learning company PIAZZA COPERNICO with a network of leading companies in insurance training, banking and finance, has further expanded its offer with the professional refresher courses to insurance and reinsurance intermediaries, pursuant to Ivass Regulation n.40 / 2018, e to consultants for investment products and services and financial instruments, pursuant to Regulation no. 16190 (Intermediaries) of Consob updated with Resolution no. 20307 of 15 February 2018.
Thanks to the new courses dedicated to intermediaries, even the individual professional can fulfill his / her training obligations independently, comfortably and effectively, by accessing the e-learning platform, following the online courses and independently downloading the certificate of attendance upon passing the final test of each course.
From today, they are in fact available 4 training courses:
Each path contains multiple e-learning courses that comply with the technical requirements of the legislation, and whose contents belong to the thematic areas specified in Annex 6 "Subjects of training and professional updating courses"
Contract area and products
Legal area
Technical insurance and reinsurance area
Administrative and management area
IT area
To start your training immediately you can access the site www.ivassconsobacademy.it, select the path necessary to complete your Ivass training obligations, fill in the form indicating your data, the number of licenses required and any specific requests.
Our commercial, technical and consultancy staff will be immediately at your disposal.
Online courses can be used within the Ivass Consob Academy e-learning platform 24 hours on 24, from any fixed and mobile device, For a unlimited number of times, within 12 months from the activation of the personalized login and password.
With its quality and training effectiveness, its highly qualified contents and its ease of technical use, Ivass Consob Academy is ready to accompany intermediaries, agencies, banks and companies in solving the mandatory training needs imposed by an ever-changing regulatory framework.