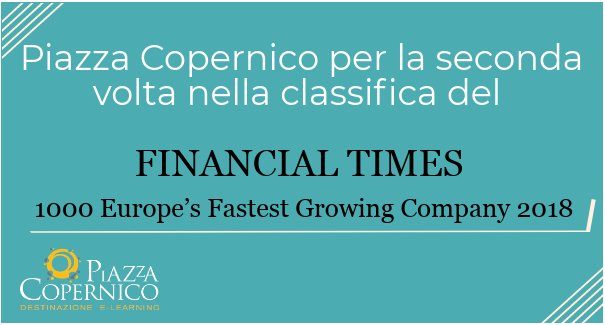 Piazza Copernico for the second time in the Financial Times ranking of Top 1.000 European companies with the major turnover growth.
THEFT 1000 lists companies in 31 countries Europeans that achieved the highest compound annual growth rate between 2013 and 2016.
To be included in the list of the fastest growing European companies, a company had to meet the following criteria:
- Revenue of at least € 100.000 generated in 2013 (or equivalent in currency as at 31 December 2013)
- Revenues of at least € 1,5 million generated in 2016 (or equivalent in currency as at 31 December 2016)
- The company is independent (the company is not a branch or branch of any kind).
- The company is based in one of the 31 European countries
- The growth in revenues between 2013 and 2016 was mainly organic (ie stimulated "internally")
- If a company is listed on the stock exchange, its share price has not decreased by 2016% or more since 25
All the data reported by the companies have been processed and controlled by The report of Statista.
Companies that did not meet the criteria for inclusion in the ranking have been deleted. The minimum average growth rate required to be included in the rankings this year was 34,6 percent.