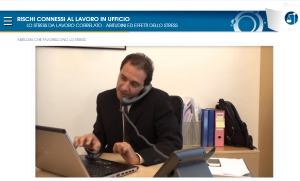 Provide the participant with the tools to recognize stress and activate behaviors to effectively manage negative situations.
MODULE 1 - Work related stress - habits and effects of stress
Habits that promote stress

The effects of stress over time

Good habits
MODULE 2 - Work to the public
Stress from working with the public
MODULE 3 - Driving in traffic
Stress from driving in traffic to get to work
MODULE 4 - Object of the job
The importance of dividing the work equally
MODULE 5 - Intensity of work rhythms (shift work)
MODULE 6 - Loneliness and monotony
The risks deriving from monotonous and solitary work
MODULE 7 - Work-related stress - the legislation in force
Presentazione

Challenge yourself

The Interconfederal Agreement 09-06-2008

Purpose and object of the Interconfederal Agreement

Recognize work-related stress

Responsibility of the employer

The proposed measures

The Permanent Advisory Commission

The indications of the Advisory Commission

The method proposed by the Advisory Commission

Challenge yourself

The preliminary assessment

Thorough assessment

Lesson summary
MODULE 8 - Psychosomatic disorders
Presentazione

Three workers feel stress… Three similar situations, three different problems

Challenge yourself

Work-related stress disorders

Symptoms of work-related stress

Stressor related to the work context
Stressor related to job content
Il bullying
The syndrome of burnout
The strategies of coping

Lesson summary
MODULE 9 - Work related stress: a proposal for evaluation
Presentazione

The indications of the Permanent Advisory Commission

Challenge yourself

The evaluation process

The evaluation and the size of the enterprises

The preparatory phase

The preliminary assessment

The level of work-related stress risk

Thorough assessment

The last stages of the process

Lesson summary
Acrobat Reader
PDF documents are exported for version 5 but are compatible with later versions of Acrobat Reader released up to the date of update of this file.
Browser
Internet Explorer 10

Internet Explorer 11

Mozilla Firefox

Google Chrome
JavaScript enabled
Pop-up blocker disabled
Minimum video resolution
The courses are optimized for a 1024 × 768 display on PCs and tablets of at least 7 inches.
Speakers or headphones (in case of multimedia products)
DATA TRACKING METHOD: SCORM 1.2
Certification / Certificate:
Certificate of use
PIAZZA COPERNICO
Content edited by:
PIAZZA COPERNICO
TUS_2015 / launchHTML5.html? Id = STRESS