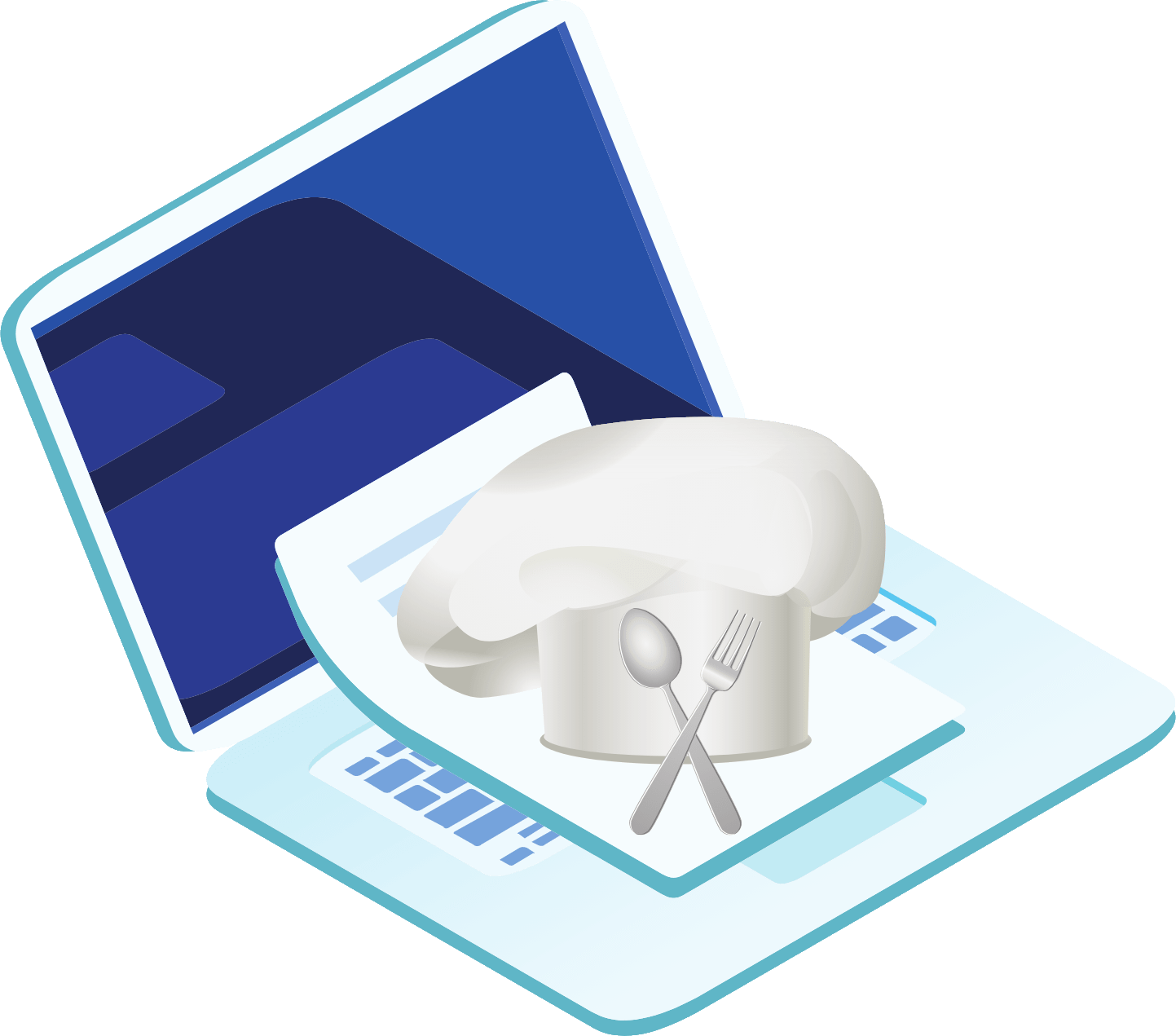 Our HACCP courses
THEHACCP (acronym from English Hazard Analysis and Critical Control Points, i.e. hazard analysis system and critical control points) is a set of procedures aimed at ensuring the wholesomeness of food, based on prevention rather than analysis of the food product.
THEHACCP represents a systematic approach that leads to the identification of hazards of a chemical-biological nature (inherent in the handling of food) and to the definition of the related control measures.
All food handling personnel (and also personnel involved in the food process even if not in direct contact with food) and those responsible for the procedures must necessarily receive adequate training on:
the legislation, characteristics and phases of the HACCP matter,
the relationships between the various subjects involved in the food process,
the risks and prevention of contamination,
the cleanliness of the premises and personal hygiene.
In Italy, each Region is autonomous in the creation of its own discipline to regulate the training of employees and managers of the food sector.
Our online HACCP courses they are therefore divided according to compliance with the legislation of the individual Regions.
The profiles treated, according to the Region of interest, are:
food staff of simple activities
all food personnel
food workers of complex activities and responsible for procedures
Training
ABRUZZO
For the provision it is necessary to contact the local ASL
For the provision it is necessary to contact the local ASL
BASILICATA
TRAINING COURSE FOR FOOD ADVISOR AIMED AT PREVENTING THE RISK ARISING FROM FOOD HANDLING UPDATE - 4 hours
Sheet
TRAINING COURSE FOR FOOD ATTACHER AIMED AT PREVENTING THE RISK ARISING FROM FOOD HANDLING - 6 hours
Sheet
CALABRIA
TRAINING COURSE FOR FOOD STAFF: RISK CATEGORY A OPERATORS - UPDATE - 4 hours

Sheet
TRAINING COURSE FOR FOOD STAFF: RISK CATEGORY B OPERATORS - UPDATE - 4 hours

Sheet
TRAINING COURSE FOR FOOD STAFF: RISK CATEGORY B OPERATORS - 6 hours

Sheet
TRAINING COURSE FOR FOOD STAFF: RISK CATEGORY A OPERATORS - 8 hours
Sheet
CAMPANIA
TRAINING COURSE FOR FOOD ADVISOR AIMED AT PREVENTING THE RISK ARISING FROM FOOD HANDLING UPDATE - 4 hours
Sheet
TRAINING COURSE FOR FOOD ATTACHER AIMED AT PREVENTING THE RISK ARISING FROM FOOD HANDLING - 6 hours
Sheet
TRAINING COURSE FOR FOOD STAFF: RISK CATEGORY OPERATORS 1 - 4 hours
Sheet
TRAINING COURSE FOR FOOD STAFF: RISK CATEGORY 1 OPERATORS - UPDATE - 4 hours
Sheet
TRAINING COURSE FOR FOOD STAFF: RISK CATEGORY 2 OPERATORS - UPDATE - 4 hours
Sheet
TRAINING COURSE FOR MANAGERS OF FOOD PROCEDURES - UPDATE - 6 hours
Sheet
TRAINING COURSE FOR FOOD STAFF: RISK CATEGORY OPERATORS 2 - 8 hours
Sheet
TRAINING COURSE FOR MANAGERS OF FOOD PROCEDURES - 12 hours (8 hours in e-learning + 4 hours in presence)
Sheet
EMILIA ROMAGNA
TRAINING COURSE FOR FOOD STAFF BASIC COURSE Risk level 1 - 3 hours
Sheet
TRAINING COURSE FOR FOOD STAFF - Risk level 1 UPDATE - 3 hours
Sheet
TRAINING COURSE FOR FOOD STAFF BASIC COURSE Risk level 2 - 3 hours
Sheet
TRAINING COURSE FOR FOOD STAFF - Risk level 2 UPDATE - 3 hours
Sheet
FRIULI VENEZIA GIULIA
TRAINING COURSE FOR MANAGERS OF PROCESSING, MANAGEMENT AND APPLICATION OF THE SELF-CHECK PROCEDURE - MARKETING COMPANIES - 4 hours
Sheet
TRAINING COURSE FOR MANAGERS OF PROCESSING, MANAGEMENT AND APPLICATION OF THE SELF-CHECK PROCEDURE - MARKETING COMPANIES - UPDATE - 4 hours
Sheet
TRAINING COURSE FOR LOW RISK OPERATORS - EMPLOYEES OF COMPANIES THAT DO NOT HANDLE FOOD - 4 hours
Sheet
TRAINING COURSE FOR LOW RISK OPERATORS - EMPLOYEES OF COMPANIES THAT DO NOT HANDLE FOOD - UPDATE - 4 hours
Sheet
TRAINING COURSE FOR FOOD STAFF: EMPLOYEES OF COMPANIES OPERATING A MANIPULATION AT RISK - 3 hours
Sheet
TRAINING COURSE FOR FOOD STAFF: EMPLOYEES OF COMPANIES THAT OPERATE MANIPULATION AT RISK - UPDATE - 4 hours
Sheet
TRAINING COURSE FOR MANAGERS OF PROCESSING, MANAGEMENT AND APPLICATION OF THE SELF-CHECK PROCEDURE - ADMINISTRATION COMPANIES - 8 hours
Sheet
TRAINING COURSE FOR MANAGERS OF PROCESSING, MANAGEMENT AND APPLICATION OF THE SELF-CHECK PROCEDURE - ADMINISTRATION COMPANIES UPDATE - 8 hours
Sheet
COURSE OF TRAINING OF RESPONSIBLE FOR PROCESSING, MANAGEMENT AND APPLICATION OF THE SELF-TEST PROCEDURE - COMPANIES OF PRODUCTION, PROCESSING, COMPLEX ADMINISTRATION - 8 hours
Sheet
COURSE OF TRAINING OF RESPONSIBLE FOR PROCESSING, MANAGEMENT AND APPLICATION OF THE SELF-TEST PROCEDURE - COMPANIES OF PRODUCTION, PROCESSING, COMPLEX ADMINISTRATION - UPDATE 8 hours
Sheet
LAZIO
TRAINING COURSE FOR FOOD STAFF - UPDATE - 4 hours
Sheet
TRAINING COURSE FOR FOOD STAFF - 6 hours
Sheet
TRAINING COURSE FOR MANAGERS OF FOOD PROCEDURES - 20 hours (8 hours in e-learning + 12 hours in presence)
Sheet
TRAINING COURSE FOR MANAGERS OF FOOD PROCEDURES - UPDATE - 8 hours
Sheet
LIGURIA
TRAINING COURSE FOR FOOD STAFF - SIMPLE ACTIVITIES - TRAINING UNIT A - UPDATE - 4 hours
Sheet
TRAINING COURSE FOR MANAGERS OF SELF-CONTROL PLANS AND FOOD STAFF OF COMPLEX ACTIVITIES - TRAINING UNITS A and B - UPDATE - 8 hours
Sheet
LOMBARDY
TRAINING COURSE FOR FOOD STAFF - 4 hours
Sheet
TRAINING COURSE FOR FOOD STAFF - UPDATE 4 hours
Sheet
TRAINING COURSE FOR MANAGER OF FOOD PROCEDURES - 6 hours
Sheet
TRAINING COURSE FOR MANAGER OF FOOD PROCEDURES - UPDATE 6 hours
Sheet
MARCHE
TRAINING COURSE FOR FOOD STAFF RESPONSIBLE FOR SIMPLE ACTIVITIES UPDATE 4 hours
Sheet
ADVANCEMENT COURSE AIMED AT PREVENTING THE RISK ARISING FROM FOOD HANDLING BASIC COURSE 4 hours
Sheet
ADVANCEMENT COURSE AIMED AT PREVENTING THE RISK ARISING FROM FOOD HANDLING UPDATE 4 hours
Sheet
TRAINING COURSE FOR OWNERS AND MANAGERS OF SELF-CHECK PROCEDURES UPDATE 6 hours
Sheet
TRAINING COURSE FOR FOOD STAFF IN CHARGE OF FOOD PRODUCTION AND PREPARATION UPDATE 6 hours
Sheet
PIEDMONT
TRAINING COURSE FOR FOOD STAFF - UPDATE - 4 hours
Sheet
TRAINING COURSE FOR FOOD STAFF - 6 hours
Sheet
TRAINING COURSE FOR MANAGER OF FOOD PROCEDURES - UPDATE 6 hours
Sheet
TRAINING COURSE FOR MANAGER OF FOOD PROCEDURES - 8 hours
Sheet
PUGLIA
TRAINING COURSE FOR FOOD STAFF - 4 hours
Sheet
TRAINING COURSE FOR FOOD STAFF - UPDATE - 4 hours
Sheet
TRAINING COURSE FOR MANAGER OF FOOD PROCEDURES - 4 hours
Sheet
TRAINING COURSE FOR MANAGER OF FOOD PROCEDURES - UPDATE 4 hours
Sheet
SARDINIA
TRAINING COURSE FOR FOOD STAFF - 4 hours
Sheet
TRAINING COURSE FOR FOOD STAFF - UPDATE 4 hours
Sheet
TRAINING COURSE FOR MANAGER OF FOOD PROCEDURES - 6 hours
Sheet
TRAINING COURSE FOR MANAGER OF FOOD PROCEDURES - UPDATE - 6 hours
Sheet
TUSCANY
TRAINING COURSE FOR Employees with simple food duties with the exception of those of production, preparation - 8 hours
(4 hours in e-learning + 4 hours in presence)
Sheet
TRAINING COURSE FOR Owners of food businesses and managers of self-control plans for simple food activities - 12 hours
(8 hours in e-learning + 4 hours in presence)
Sheet
TRAINING COURSE FOR Workers with complex food tasks: production, handling and preparation of food - 12 hours
(8 hours in e-learning + 4 hours in presence)
Sheet
TRAINING COURSE FOR Owners of food businesses and managers of self-control plans for complex food activities - 16 hours
(8 hours in e-learning + 8 hours in presence)
Sheet
TRAINING COURSE FOR Employees with simple food duties with the exception of those of production, preparation - UPDATE 4 hours
Sheet
TRAINING COURSE FOR Workers with complex food tasks: production, handling and preparation of food - UPDATE 4 hours
Sheet
TRAINING COURSE FOR Owners of food businesses and managers of self-control plans for simple food activities - UPDATE 8 hours
(4 hours in e-learning + 4 hours in presence)
Sheet
TRAINING COURSE FOR Owners of food businesses and managers of self-control plans for complex food activities - UPDATE 8 hours
(4 hours in e-learning + 4 hours in presence)
Sheet
TRENTINO ALTO ADIGE - PROVINCE OF TRENTO
TRAINING COURSE FOR STAFF WHO DO NOT HANDLE FOOD - 4 hours
Sheet
TRAINING COURSE FOR STAFF WHO DO NOT HANDLE FOOD - UPDATE - 4 hours
Sheet
TRAINING COURSE FOR STAFF INVOLVED IN FOOD PRODUCTION ACTIVITIES - UPDATE - 4 hours
Sheet
TRAINING COURSE FOR MANAGERS OF FOOD PROCEDURES AND COMPANY OWNERS - UPDATE 6 hours
Sheet
TRAINING COURSE FOR MANAGERS OF FOOD PROCEDURES AND COMPANY OWNERS - 8 hours
Sheet
TRAINING COURSE FOR STAFF INVOLVED IN FOOD PRODUCTION ACTIVITIES - 8 hours
Sheet
TRENTINO ALTO ADIGE - PROVINCE OF BOLZANO
TRAINING COURSE FOR PERSONNEL IN CHARGE OF THE PRODUCTION AND PREPARATION OF FOOD NOT EASILY PERISHABLE - CATEGORY B - 4 hours
Sheet
TRAINING COURSE FOR FOOD SUPPLY STAFF - CATEGORY B UPDATE 4 hours
Sheet
TRAINING COURSE FOR PERSONNEL IN CHARGE OF THE PRODUCTION AND PREPARATION OF FOOD NOT EASILY PERISHABLE - CATEGORY B UPDATE 4 hours
Sheet
TRAINING COURSE FOR STAFF IN CHARGE OF TRANSPORT AND SALE OF PERISHABLE FOOD - CATEGORY B UPDATE - 4 hours
Sheet
TRAINING COURSE FOR FOOD SUPPLY STAFF - CATEGORY B - 6 hours
Sheet
TRAINING COURSE FOR PERSONNEL IN CHARGE OF THE TRANSPORT AND SALE OF PERISHABLE FOOD - CATEGORY B - 6 hours
Sheet
TRAINING COURSE FOR FOOD PRODUCTION STAFF - CATEGORY A UPDATE - 6 hours
Sheet
TRAINING COURSE FOR FOOD PRODUCTION STAFF - CATEGORY A - 8 hours
Sheet
UMBRIA
TRAINING COURSE FOR FOOD SECTOR OPERATOR Simple activity worker (primary production - without food handling) - BASIC COURSE - 4 hours
Sheet
TRAINING COURSE FOR FOOD SECTOR OPERATOR Simple activity worker (primary production - without food handling) - UPDATE - 4 hours
Sheet
TRAINING COURSE FOR FOOD SECTOR OPERATOR Simple activity worker (primary production - without food handling) - UPDATE - 4 hours
Sheet
TRAINING COURSE FOR FOOD SECTOR OPERATOR Person in charge of complex activities with food handling - BASIC AND SPECIFIC COURSE - 12 hours
(8 hours in e-learning + 4 hours in presence)
Sheet
VENETO
TRAINING COURSE FOR STAFF HANDLING FOOD - GROUP 2 - 4 hours
Sheet
TRAINING COURSE FOR STAFF WHO DO NOT HANDLE FOOD - GROUP 1 - 4 hours
Sheet
TRAINING COURSE FOR STAFF WHO DO NOT HANDLE FOOD - GROUP 1 - 4 hours
Sheet
TRAINING COURSE FOR STAFF WHO DO NOT HANDLE FOOD - GROUP 1 - UPDATE - 4 hours
Sheet