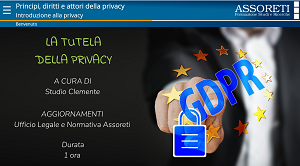 ROUTES: IVASS TRAINING - IVASS UPDATE
Ivass Thematic Area: LEGAL
Ivass Area Module: 12. Legislation on the protection of personal data
The course aims to provide information on all issues related to the protection of privacy, with particular attention to the rules introduced by the GDPR.
Privacy principles, rights and actors
Module 1 - Introduction to Privacy
What is Privacy?

The GDPR

Material scope

Important definitions: personal data

Important definitions: treatment

The rights of the interested party

Learning Stop
Module 2 - The subjects of the treatment
Who I am the owner, manager and person in charge

The Data Controller

The person in charge of the treatment

The person in charge of the treatment

The DPO

DPO requirements

Tasks of the DPO

Learning Stop
Treatments, measures, sanctions
Module 3 - Accountability and security measures
Data protection by design and by default

Data Protection Impact Assessment

The register of treatments

Security measures

Notification of a personal data breach to the supervisory authority

Role and obligations of the financial advisor qualified for door-to-door selling

Learning Stop
Module 4 - Information and consent
The pillars of privacy

The information

Fundamentals of lawfulness of processing

Processing based on legitimate interests

Consent of the interested party

Circulation of data

International data transfers

Learning Stop
Module 5 - Safeguards and sanctions
The measures to protect the interested party

The right to compensation

The person in charge of the treatment

The tools of protection

The Guarantor for the protection of personal data

Learning Stop
FINAL TEST
Acrobat Reader
PDF documents are exported for version 5 but are compatible with later versions of Acrobat Reader released up to the date of update of this file.
Browser
Internet Explorer 10

Internet Explorer 11

Mozilla Firefox

Google Chrome
JavaScript enabled
Pop-up blocker disabled
Minimum video resolution
The courses are optimized for a 1024 × 768 display on PCs and tablets of at least 7 inches.
Speakers or headphones (in case of multimedia products)
DATA TRACKING METHOD: SCORM 1.2
Certification / Certificate
Final reports and certificate of use compliant with the provisions of the IVASS Regulation.
PIAZZA COPERNICO
Content edited by: Assoreti Training
Teaching: Studio Clemente-Assoreti Legal Office