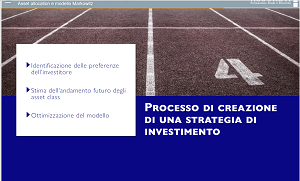 ROUTES: IVASS UPDATE - CONSOB TRAINING
Ivass Thematic Area: Contractual and products
Ivass Area Module: 5. Evaluation of the advantages and disadvantages of the different investment options for policyholders
CONSOB Area of ​​Expertise: Letter K art. 18 ESMA Guidelines
Starting from Markowitz's theory, the course deals with and provides the tools to understand how to build an investment portfolio capable of minimizing risks and maximizing returns.
Module 1 - Portfolio selection and performance assessment
Asset allocation and the Markowitz model

Markowitz model: portfolio consisting of 2 stocks

Markowitz model: portfolio consisting of n securities

Portfolio performance assessment

Performance indicators for risk

Dynamics of the world economy

End of Module TEST
Module 2 - Economic situation and the insurance market
Performance of insurance instruments

Life insurance - part 1

Life insurance - part 2

The insurance market

The statutory financial statements

End of Module TEST
FINAL TEST
Acrobat Reader
PDF documents are exported for version 5 but are compatible with later versions of Acrobat Reader released up to the date of update of this file.
Browser
Internet Explorer 10

Internet Explorer 11

Mozilla Firefox

Google Chrome
JavaScript enabled
Pop-up blocker disabled
Minimum video resolution
The courses are optimized for a 1024 × 768 display on PCs and tablets of at least 7 inches.
Speakers or headphones (in case of multimedia products)
DATA TRACKING METHOD: SCORM 1.2
Certification / Certificate
Final reports and certificate of use compliant with the provisions of the IVASS Regulation.
PIAZZA COPERNICO
Content edited by: Assoreti Training
Teaching: Duccio Martelli