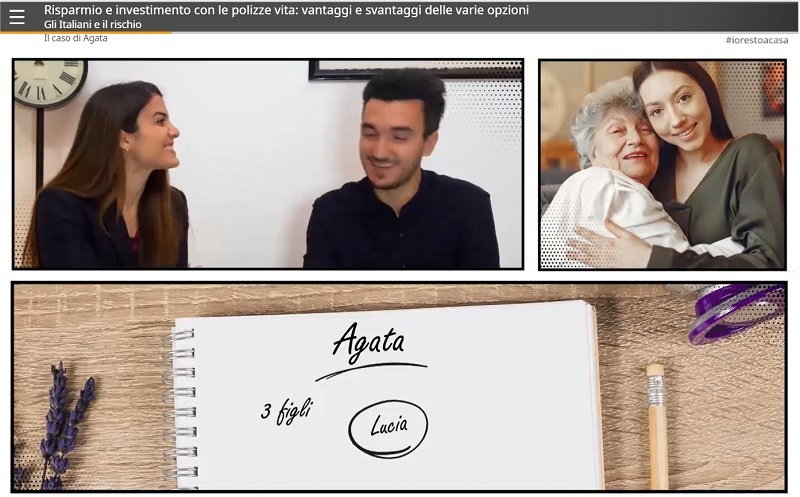 Theme area: CONTRACTUAL AND PRODUCTS
ROUTES: IVASS TRAINING - IVASS - CONSOB UPDATE
Ivass area module: 5. Evaluation of the advantages and disadvantages of the different investment options for policyholders
Consob Thematic Macro Area: INVESTMENT EVALUATION
ESMA criteria point V.III: Letter B.
The aim of the course is to make the link between risk assessment and policy performance understood for each type of life product.
In this way, commercial resources are offered tools capable of mixing the concept of risk with the concept of return and of strengthening the evaluation of the trade offs associated with the choice of life saving and investment products.
A map of savings and investment opportunities

The key concept of risk

The balance between risk and policy performance: not just returns

The value of the life insurance offer in customer savings management
Acrobat Reader
PDF documents are exported for version 5 but are compatible with later versions of Acrobat Reader released up to the date of update of this file.
Browser
Internet Explorer 10

Internet Explorer 11

Mozilla Firefox

Google Chrome
JavaScript enabled
Pop-up blocker disabled
Minimum video resolution
The courses are optimized for a 1024 × 768 display on PCs and tablets of at least 7 inches.
Speakers or headphones (in case of multimedia products)
DATA TRACKING METHOD: SCORM 1.2
CERTIFICATION / CERTIFICATE
Final reports and certificate of use compliant with the provisions of the IVASS Regulation.
PIAZZA COPERNICO
Content edited by: LYVE
Teacher: Antonio Sanna