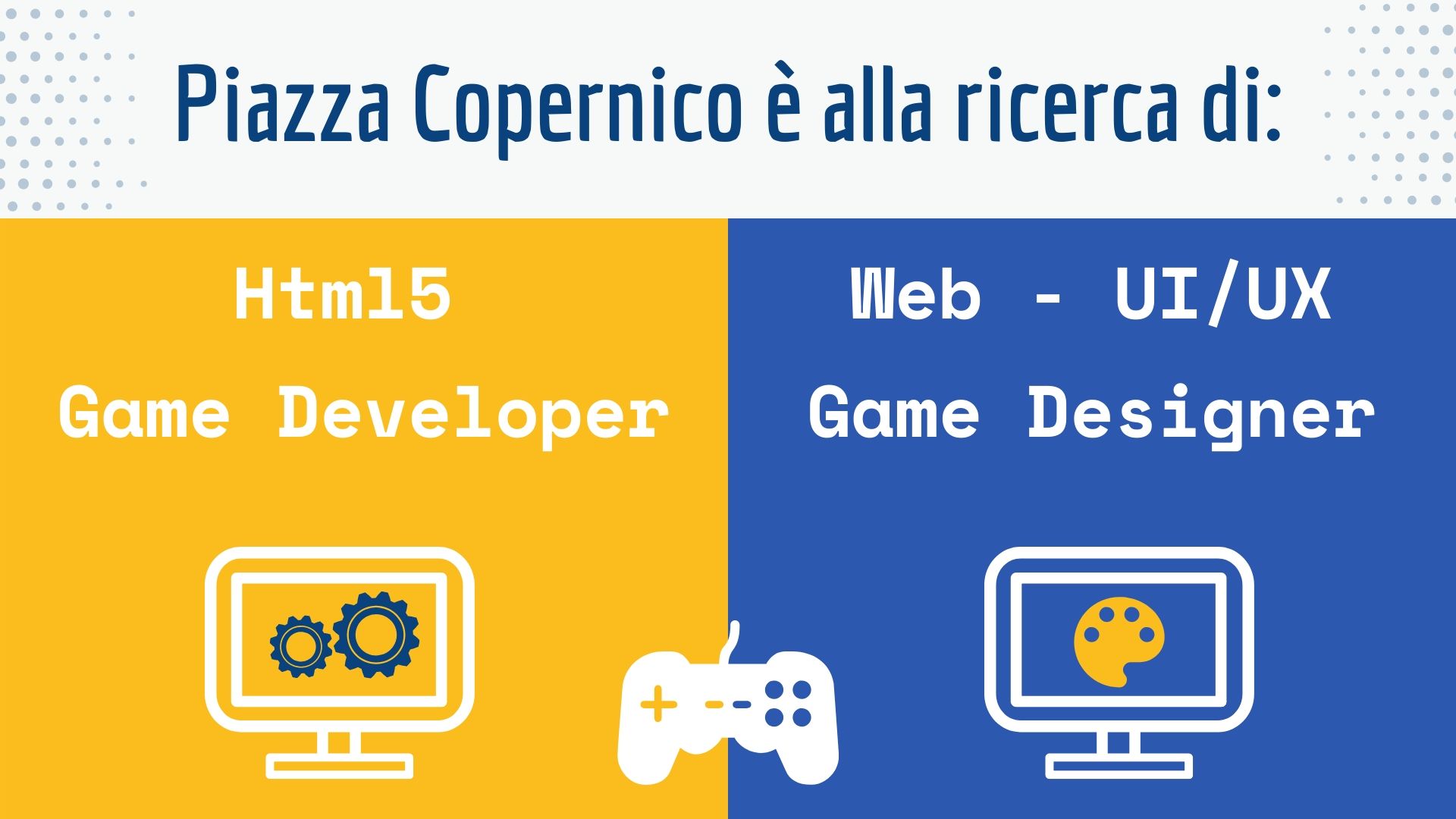 Piazza Copernico in order to enhance its organic research and select:
Html5 Game Developer
Requirements:
Degree in science (Computer science, Mathematics, Physics, ...)
2+ years of experience in HTML5 game development
Solid knowledge of HTML 5, Javascript, CSS3, AJAX, SVG
Excellent debugging, profiling and code optimization capabilities
Knowledge of GIT versioning software
Bonus points:
Knowledge of javascript / typscript Framework (Angular)
Knowledge in the fields of statistical analysis and data visualization
Knowledge of javascript rendering engine (PixiJS)
Experience in developing apps for smartphones / tablets
Keywords:
HTML 5,
Java Script,
CSS3,
AJAX,
SVG
Data visualization
The profile is completed by the ability to work in a team, precision and reliability.
Place of work: Rome
Availability: immediate
Web - UI / UX - Game Designer
The ideal candidate has the following technical requirements:
Excellent knowledge of mobile and web User Interface Design
Development of interactive interfaces and dynamic web pages
Excellent knowledge of graphic design and development games and apps
Excellent knowledge of the Adobe suite
Development of infographics, design and graphic development of web pages
Knowledge of Design Thinking techniques
and the following experiences:
in the design of software, web, mobile and tablet interfaces
in the design of responsive web interfaces. Realization of mockups and html / css / javascript prototypes starting from the graphic design and related wireframes;
in designing and prototyping User Interface (UI)
in the graphic design of games and apps
Mandatory skills required:
Responsive layout - Bootstrap
HTML5
They constitute a preferential title
Accessibilità
CSS3
javascript
3D modeling
Good relational skills, problem solving skills, ability to work in a team and flexibility are also required.
We would like to meet young and bright people, motivated to undertake a path of growth in a dynamic and challenging context
Working Hours: Full Time
Framing: Salary commensurate with experience.
Possibility of growth within a consolidated and booming reality.
Insertion in a young and dynamic environment, oriented towards innovation and continuous growth. Technical and professional development
Inserting asap
Work location: ROME