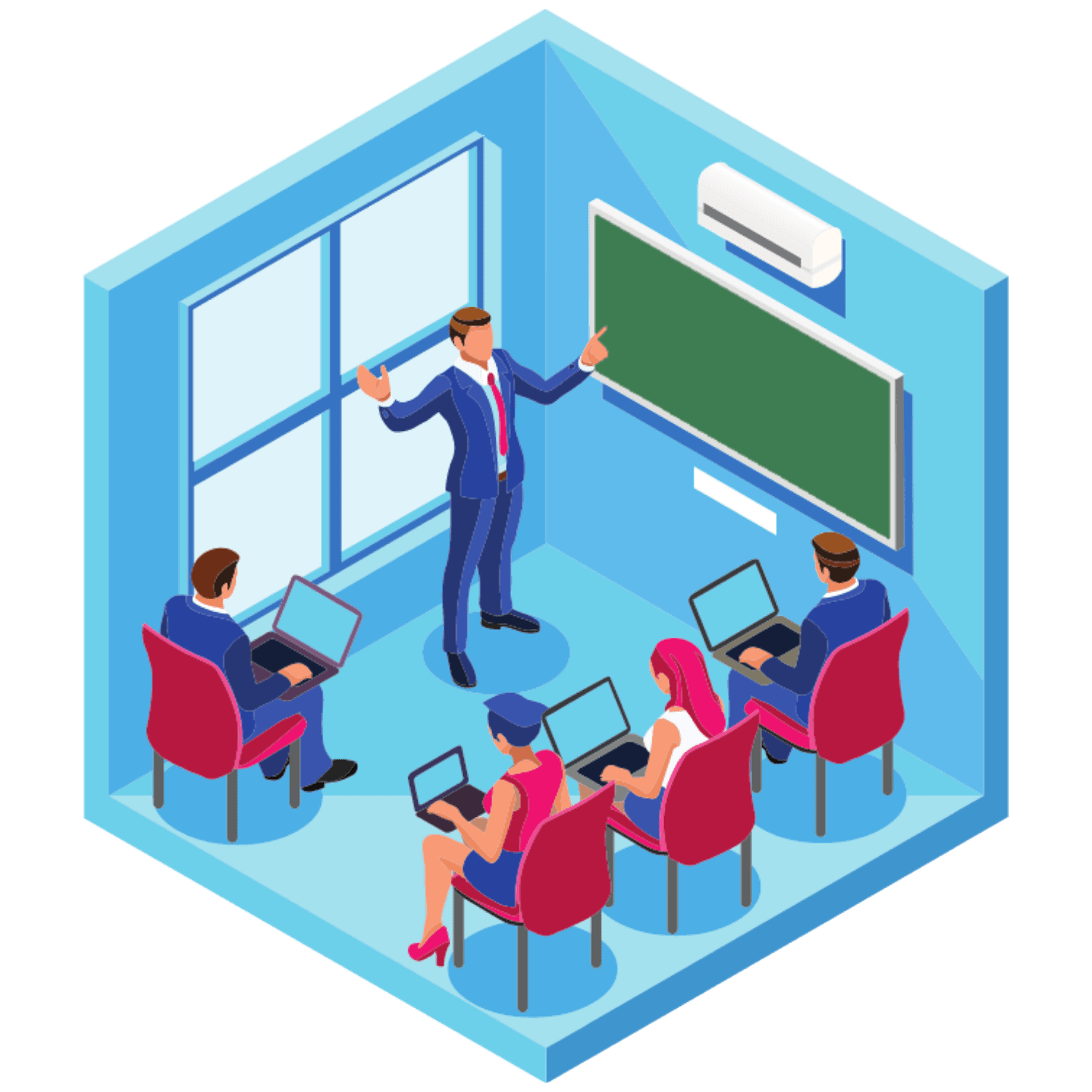 The catalog of Synchronous Formation
The catalog of courses for synchronous training, provided in the classroom or in the virtual classroom, is constantly expanding, and includes various areas of intervention:
soft skills,
sales and marketing techniques,
legislation,
Informatics,
languages,
job security,
training trainers
training for IVASS, OAM and OCF exams
specific training for the tourism-hotel sector.
The synchronous courses are always designed ad hoc on the needs of the customer, after having analyzed the objectives and recipients, and consequently customized and localized within the company that requests them.
The classrooms, whether in the presence or in the virtual classroom, are organized only with teachers with proven experience, which ensure a high level of didactic quality.
Over the years, Piazza Copernico has consolidated a large multidisciplinary network of professional teachers, all able to operate also within blended learning projects.
Synchronous training always involves the adoption of active teaching methodologies to involve the participant and the groups.
From indoor training to outdoor training, to virtual classroom courses, the training includes always active experimentation, didactic game and metaphor, used as levers to activate and transform skills.
Our courses for Synchronous Training
Development of personal skills
| Course Title | Duration | Sheet |
| --- | --- | --- |
| Individual empowerment | 16 | Sheet |
| Relational empowerment | 16 | Sheet |
| Manage conflicts | 16 | Sheet |
| Project Management, techniques and tools for project management | 24 | Sheet |
| The Team Building | 16 | Sheet |
| The Company - Basic organizational principles | 16 | Sheet |
| Effective communication | 16 | Sheet |
| The management of anxiety and stress | 16 | Sheet |
| Management of meetings: informative, consultative, decision-making | 16 | Sheet |
| Situational leadership | 16 | Sheet |
| Work for goals | 16 | Sheet |
| Team work | 8 | Sheet |
| Leadership and Followership | 8 | Sheet |
| Problem solving: case analysis | 16 | Sheet |
| Public Speaking | 16 | Sheet |
| Team Working - Develop cooperation skills | 16 | Sheet |
| Helmsmen of our time | 16 | Sheet |
Marketing and sales techniques
| Course Title | Duration | Sheet |
| --- | --- | --- |
| Assertive-Mind. Effective communication in sales | 8 | Sheet |
| Customer Care | 16 | Sheet |
| Emotional-Mind. The latest neuroscience discoveries for the effective use of emotions in sales | 8 | Sheet |
| Complaint management | 16 | Sheet |
| Negotiation between the parties | 16 | Sheet |
| Telephone sales techniques | 16 | Sheet |
| Sales techniques: upselling and crosselling | 16 | Sheet |
informatics
| Course Title | Duration |
| --- | --- |
| Word 365 | 16 |
| Excel 365 base | 16 |
| Excel 365 advanced | 16 |
| PowerPoint 365 | 12 |
| Outlook 365 | 16 |
| Office 365 - The Teams, OneDrive, OneNote collaboration tools | 16 |
Languages
| Course Title | Duration | Sheet |
| --- | --- | --- |
| General language (European and non-European, Italian for foreigners) | 30 or 40 hours | Sheet |
| Business language (European and non-European, Italian for foreigners) | 30 or 40 hours | Sheet |
| ESP preparatory courses | 30 or 40 hours | Sheet |
| ESP- English for Specific Purposes - (Admission Level Intermediate) | 30 or 40 hours | Sheet |
Job security
| Course Title | Duration | Delivery mode |
| --- | --- | --- |
| General training: Training on COVID-19 risk in the company | 1,5 | Virtual classroom (art.37) or classroom (max 35 participants) |
| General training: the Worker | 4 | Virtual classroom (art.37) or classroom (max 35 participants) |
| General Training: the Worker - English Language | 4 | Virtual classroom (art.37) or classroom (max 35 participants) |
| Specific training: the Smart Working Worker | 4 | Virtual classroom (art.37) or classroom (max 35 participants) |
| Specific training: the Office Worker | 4 | Virtual classroom (art.37) or classroom (max 35 participants) |
| Specific training: Office Worker - English Language | 4 | Virtual classroom (art.37) or classroom (max 35 participants) |
| Specific training: the worker in commercial activities | 4 | Virtual classroom (art.37) or classroom (max 35 participants) |
| Specific training: the worker in service activities | 4 | Virtual classroom (art.37) or classroom (max 35 participants) |
| Specific training: the worker in the health sector (general concepts) | 8 | Virtual classroom (art.37) or classroom (max 35 participants) |
| General and specific training: the Smart Working Worker | 8 | Virtual classroom (art.37) or classroom (max 35 participants) |
| General and specific training: the Office worker | 8 | Virtual classroom (art.37) or classroom (max 35 participants) |
| General and specific training: the Worker in commercial activities | 8 | Virtual classroom (art.37) or classroom (max 35 participants) |
| General and specific training: the Worker in service activities (with insights) | 8 | Virtual classroom (art.37) or classroom (max 35 participants) |
| Worker Update: Update | 6 | Virtual classroom or classroom |
| Supervisor: Supervisor update | 6 | Virtual classroom or classroom |
| Supervisor: the Supervisor | 4 | Virtual classroom or classroom |
| Manager: the Manager | 16 | Virtual classroom or classroom |
| Manager: Manager update | 6 | Virtual classroom or classroom |
| RLS: the RLS | 32 | Virtual classroom or classroom |
| RLS: RLS update - 8 hour module | 8 | Virtual classroom or classroom |
| RLS: RLS update - 4 hour module | 4 | Virtual classroom or classroom |
| RSPP / ASPP: ASPP update | 20 | Virtual classroom or classroom |
| RSPP / ASPP: RSPP update | 40 | Virtual classroom or classroom |
| RSPP / ASPP: Employer Update (High risk) | 14 | Virtual classroom or classroom |
| RSPP / ASPP: Employer Update (Medium risk) | 10 | Virtual classroom or classroom |
| RSPP / ASPP: Employer Update (Low risk) | 6 | Virtual classroom or classroom |
| RSPP / ASPP: RSPP / ASPP update - Module 1. Italian regulatory framework | 8 | Virtual classroom or classroom |
| RSPP / ASPP: RSPP / ASPP update - Module 2 - Risk assessment: physical risks | 8 | Virtual classroom or classroom |
| RSPP / ASPP: RSPP / ASPP Training - Module A | 28 | Virtual classroom or classroom |
| RSPP / ASPP: the Employer - RSPP | 8 | Virtual classroom or classroom |
| CSE / CSP: CSE / CSP update | 40 | Virtual classroom or classroom |
| In-depth courses: preliminary in-depth study for the Fire Attendant (LOW RISK) | 4 | Virtual classroom (only for Low Risk Module) or Classroom |
| In-depth courses: Training course on shift work risks | 1,5 | Virtual classroom or classroom |
| In-depth courses: Information course for Scaffolding | 4 | Virtual classroom or classroom |
| Equipment: Training for Lift Trolleys / Self-propelled Forklifts with driver on board (Legal Technical Regulations Form) | 8 | Virtual classroom or classroom |
| Equipment: Training for Operators in charge of Operating Mobile Elevating Work Platforms (PLE) | 4 | Virtual classroom (only for the Technical Law module) or Classroom |
Tourism and hotel sector
| Course Title | Duration |
| --- | --- |
| Table service: catering and breakfast | 8 |
| La mise en place (Table decorations) | 8 |
| Buffet decorations | 8 |
| Healthy cuisine and pastry | 16 |
| Food intolerances | 8 |
| New cooking techniques | 8 |
| Flambé cuisine | 4 |
| distillates | 8 |
| Oysters | 8 |
| Bread making: yeast and leavening | 8 |
| Storage and cooking under vacuum | 8 |
| Meat cutting and cleaning - insights | 4 |
| Meat cutting and cleaning - practical | 4 |
| Menu composition | 8 |
| Food & Beverage cost calculation | 16 |
| Techniques applied to Food Costing | 8 |
| The technical set-up of the meeting rooms | 1 |
| Bon ton: ritual, ceremonial and etiquette | 1 |
| Personal enhancement: Make up | 4 |
| Human Resources: The employment relationship | 4 |
| Personnel selection tools | 8 |