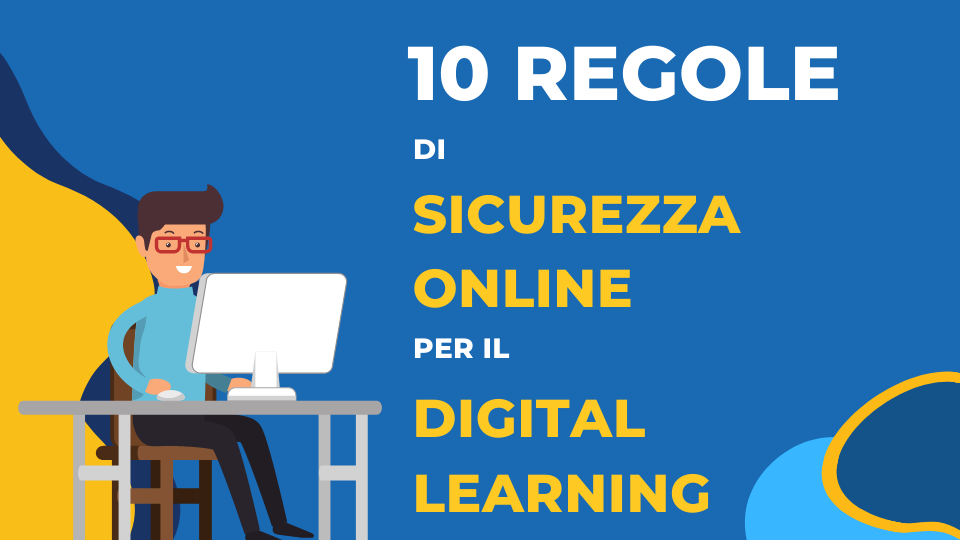 The online safety rules to take advantage of all the opportunities of Digital Learning without running into problems
A useful handbook to respect before doing any online activity, and therefore also before starting an e-learning training course.

Provide only necessary personal and professional information
You wouldn't give personal information to strangers, so don't give it to millions of people on the internet and don't post it on social media.
However, remember that at least the personal data and the tax code are necessary for the issuance of a certificate of use of an online course. So choose a serious Digital Learning company, which will guarantee respect for your privacy and will use your data only for the activities necessary for training.

Always keep the Privacy settings activated and checked
These settings are often hard to find to put you off, but don't give up. Make sure you always activate these privacy protections, and always keep them updated.

Practice safe navigation
As you would not go for a walk in a dangerous neighborhood, never visit the dangerous sites on the Internet.

Make sure your internet connection is secure
When you connect to the Internet in a public place, for example using a public Wi-Fi connection, you have no direct control over its security, so try to avoid it if you don't need to.
If it's not mandatory to connect right then, wait until you can connect to a secure Wi-Fi network.
To further increase the security of your Internet browsing, use a connection if possible VPN.
Be careful what you are about to download
One of the main goals of cybercriminals is to trick you into downloading malware.
Never download applications that look suspicious, or that come from a site or email that you don't know and / or that look suspicious.
Choose strong passwords
Never choose passwords that are too easy for cyber thieves to remember or guess.
Always mix letters, numbers and special characters. It is less difficult than you think to find a safe and possible pattern to remember, but only for you.
Avoid birth dates, family names, and instead use events or numbers that only make sense to you.

Make your online purchases only on secure sites
Whenever you make an online purchase, you will need to provide your credit card or bank account information.
Provide this information only to sites you have no doubt about, or at least check that they offer secure and encrypted connections (addresses starting with https or marked with a lock icon).
And consider the option of using Paypal or chargeable cards.

Pay close attention to what you post
Any comments or images you post can stay online forever, even if you delete the original.
Don't put anything online that you don't want your mother or potential employer to see. 🙂

Don't trust anyone you meet online
People you meet online aren't always who they say they are.
Be prudent and reasonable in your online social life, at least as much as you are in your daily life.

Always keep your Anti-Virus software up to date
Anti Virus software cannot protect you against all threats, but it detects and removes most malware.
It is a tool that provides you with the minimum level of security, so appreciate its function and always keep it updated.
---
We want to thank you PAPERNEST for permission to provide a free interpretation of their article on the subject.