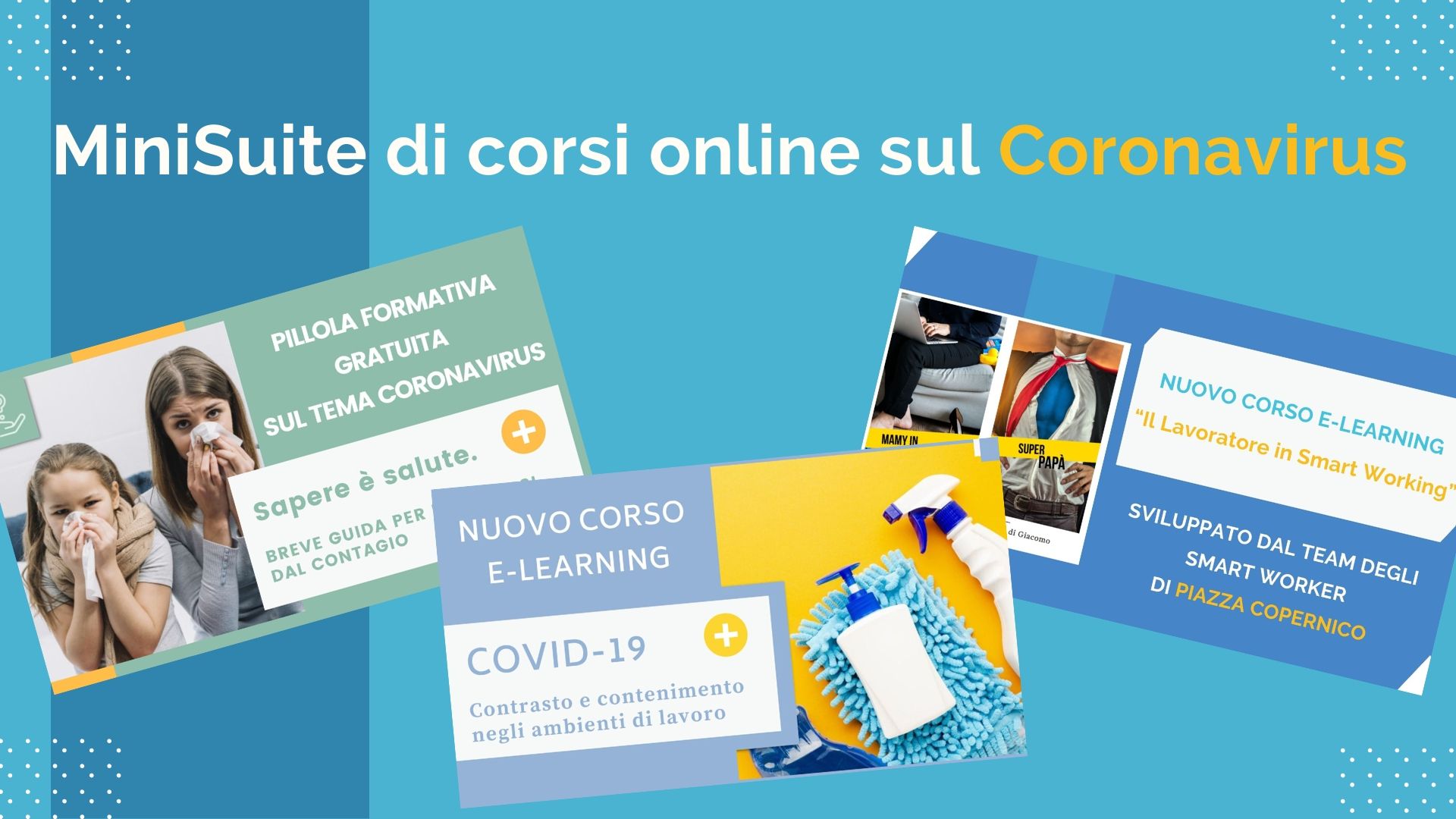 La Minisuite Piazza Copernico on the topic of Coronavirus contains three different online courses developed recently, put at the service of the community in this long period of pandemic emergency.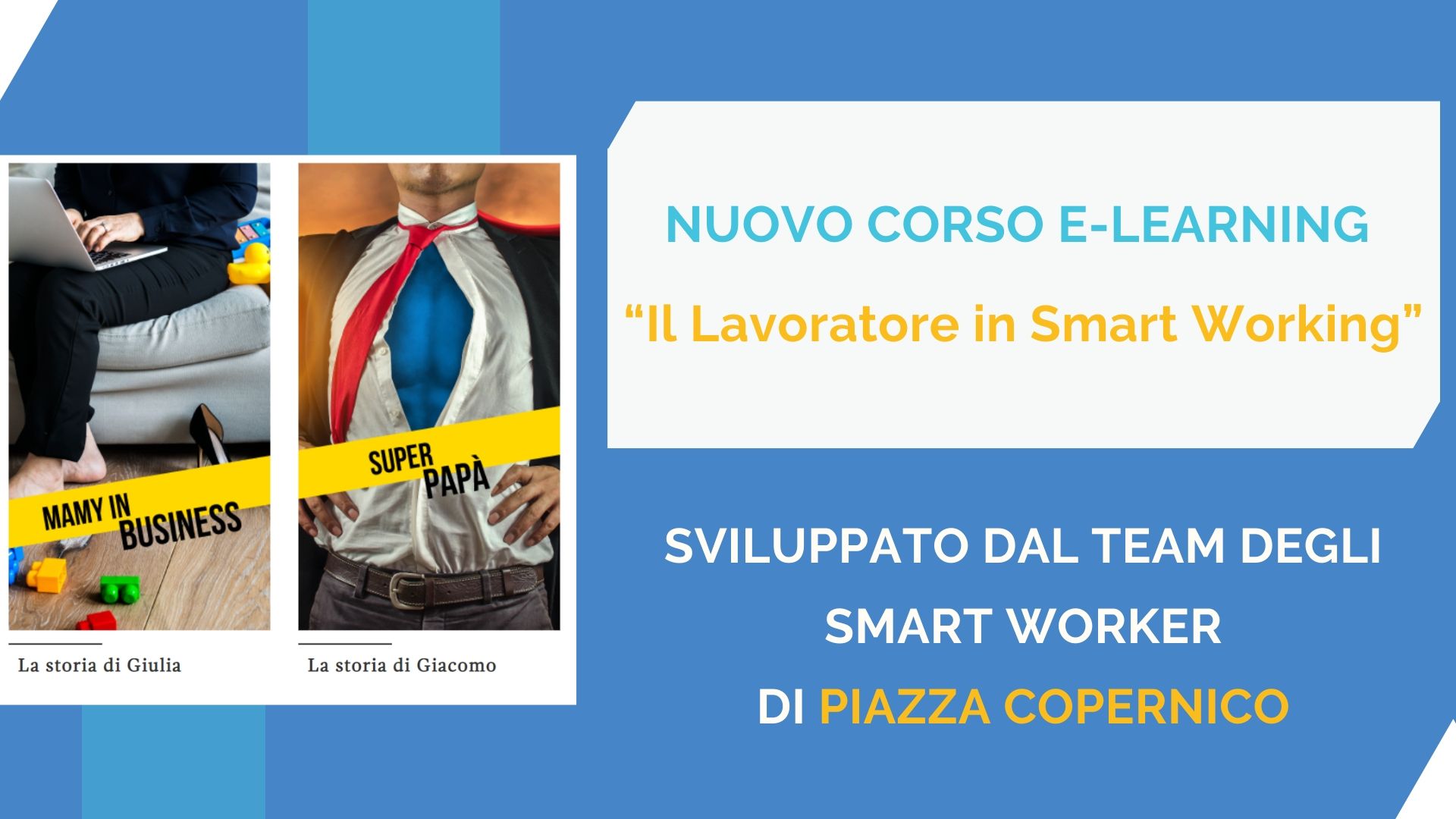 THE SMART WORKING EMPLOYEE
The online course aims to clarify the main ones characteristics of agile work, regulations that regulate it, the modalities of application, the advantages and disadvantages of working in Smart Working.
The course also allows the partial fulfillment of the training obligation on Safety at Work as Specific Training pursuant to legislation (Legislative Decree 81/2008 and subsequent amendments). In fact, it constitutes the first Module of a complete online course with respect to the provisions of the legislation, and at the end it provides for the verification of the knowledge acquired, necessary for the release of the certificate of participation in compliance with the standard.
It is also valid as a course forIVASS professional update (30 hours).
Topics covered by the course:
Smart Working (Introduction, Beyond the concept of Telework, Smart Working and emergency situations, nA bit of numbers, The 3 B in Smart Working, Benefits for companies, Benefits for workers, The Smart Working manifesto)
The Agile Work Act (Introduction, Essential Aspects of the Law, The Risks of Agile Work, The Work Environment, The Workplace, The INAIL Circular)
Video Terminal Security (The health effects of VDTs, Positioning the work table, Adjusting the chair, Positioning the work tools: screen, keyboard and documents, Good practices for working properly and having a healthy life, 8 tips for a sedentary worker)
To the three modules that make up the basic course, a fourth additional training module of a few minutes has been added for those who request it. Smart Working at the time of COVID-19 containing the following topics:
The "Cura Italia" Decree
Right of way to agile work - Article 39
Agile work funds for state bodies - Article 74
Information systems for the diffusion of agile work - Article 75
Support for all agile work development initiatives and measures - Article 76
Extraordinary measures in the field of agile work - Article 87
Prime Ministerial Decree of March 22, 2020
COVID-19
CONTRAST AND CONTAINMENT IN THE WORKPLACE
On March 14, 2020, the "Shared protocol for regulating measures to combat and contain the spread of the Covid-19 virus in the workplace".
The course contains all the guidelines set by the document to guide companies in adopting anti-contagion security protocols.
KNOWING IS HEALTH.
SHORT GUIDE TO DEFEND YOURSELF FROM THE CONTAGIO
Breve course which is offered to all our customers in free mode.
The course aims to facilitate all employers in the train and inform their employees on the subject, keeping track of the training carried out.
It is a Training pill, a short but incisive multimedia course that fully addresses the issue, based on official contents of the Ministry of Health.
DO YOU WANT MORE INFORMATION ON THE MINI-SUIT?
DO YOU WANT TO BOOK COURSES?
The course is for use: