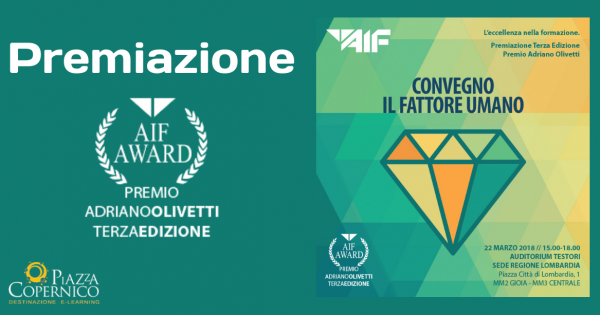 On March 22, 2018, during the AIF conference "The human factor", The awards ceremony for the 2017rd edition of the XNUMX took place AIF "Adriano Olivetti", which has the purpose of disseminating good practices regarding innovative paths of learning and enhancement of people.
Piazza Copernico was awarded the second prize in the Personal and Organizational Security category Security Coach.
The project was born to support e-learning training courses on job security with quick and synthetic resources, easy to memorize and focused on the most suitable behaviors in every workplace to prevent risks and guarantee health.
The training product was delivered to a heterogeneous population by risk category, and was therefore developed as mobile microlearning transversal to all risks, and with a personalized use system ((adaptive learning)).
He withdrew the Eraldo Colombo prize, which with a brief speech underlined the expertise of Piazza Copernico in the construction of the e-learning project.