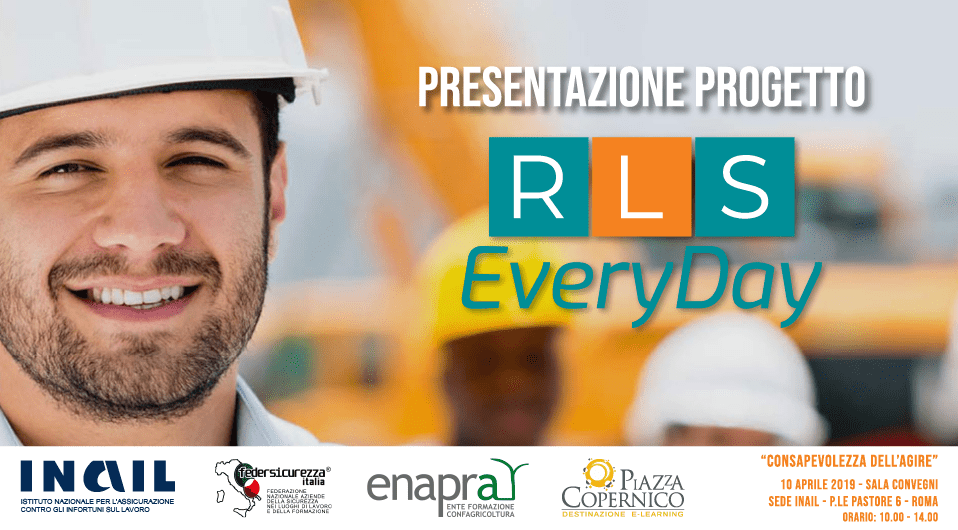 Wednesday 10 April 2019, from 10 to 13.30,
at the auditorium of the INAIL Palace in Piazzale Pastore, 6 - Rome
The event is promoted by PIAZZA COPERNICO (component of the RTI with Federsicurezza Italy e Enapra)In partnership with INAIL Central Prevention Directorate, and will focus on the presentation of the project "EveryDayRLS - Awareness of acting".
EveryDayRLS is a web portal that aims to make available to operators of Safety (RLS, RLST, Companies) a useful tool for information and dissemination of the culture of Prevention, functional to the performance of one's professional activity.
Through the EveryDayRLS Portal the RLS they can always be updated on the new rules and their applications, and they can exchange views by sharing operational models and emerging problems related to Prevention and Safety, so that the action of one is an example and a track for many.
The portal EveryDayRLS it will quickly become a point of reference for security professionals through the use of:
- Digital Library: consultation and download of updated documentation;
- Qualified Consultation: specific search engine for qualified consultation of workplace safety documentation;
- Management software: CheckList / Forms / Deadlines
- Training: Practical cases / Digital gym
To participate, you can fill out the registration form directly by clicking Thu.
All updates relating to the event and the detailed program of the day will be published on the Facebook page of Piazza Copernico.