INTERVIEW with Antony Vitali of EBAFoS PANORAMA
"The role of digital skills and knowledge in the European digital decade"
there is also talk of the partnership with Piazza Copernico
February 22 2023
ARTICLE/INTERVIEW with Marco Rossato FORMS
"The life? I face it in full sail"
we also talk about our Antifragility Project
December 5 2022
ARTICLE AIF LEARNING NEWS
"The value of innovative training" by Silvia Pochettino
26 September 2022
ARTICLE THE NAUTILUS
"Paralympic athlete Marco Rossato talks about antifragility"
20 September 2022
PLUS MAGAZINE ARTICLE
"The excellence of training" by Emanuela Truzzi
7 September 2022
TABMAGAZINE ARTICLE
Online newspaper of technology and innovation for the insurance, banking and financial sectors.
"Piazza Copernico, new functions for the deaf and visually impaired"
August 31th, 2022
ARTICLE / INTERVIEW with Oliviero Vittori WORDS OF MANAGEMENT (ESTE group)
"E-learning focuses on the experience and uniqueness of people" by Federica Biffi
July 6 2022
ANSA.IT PRESS RELEASE
"Piazza Copernico confirms itself as the excellence of Italian e-learning"
July 6 2022
Piazza Copernico among the main partners of the initiative, and General Manager Vittori moderator of a Phigital Talk
June 23 2022
INTERVIEW RADIO CANALE ITALIA
Radio interview in the Story Time column with Cinzia Mezzetti and Silvia Pochettino
April 28 2022
"The power of gentle leadership" the vLIFExperience of Piazza Copernico for the Academy of Kindness.
10 Maggio 2022
SERVICE / INTERVIEW with Oliviero Vittori ASKA NEWS
"Piazza Copernico protagonist of the e-learning boom in Italy"
March 2 2022
ARTICLE THE REPUBLIC
ROMA.REPUBBLICA.IT
Company and Development section
Lazio Excellence Dossier
February 22 2022
2021
PANORAMA INTERVIEW
Sul number 41 of Panorama the Head of Italy Market of Enel Energia Nicola Lanzetta tells how our software was used semantic case to analyze the semantics and sentiment of complaints presented by Enel Energia customers through digital channels.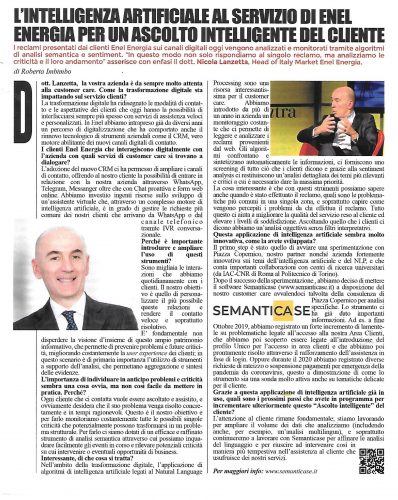 2020
ADVERTISING CAMPAIGN "In life you learn many things"
SOLE 24 ORE - GROWTH LEADER REPORT 2021
Paper edition - 25 November 2020